VISHAY NTC LUG SERIES
Vishay offers several customization options, both electrical and mechanical, however our customization capabilities extend much further with each request being independently evaluated.
Some of the most common options are listed below to assist you with completing the custom request form.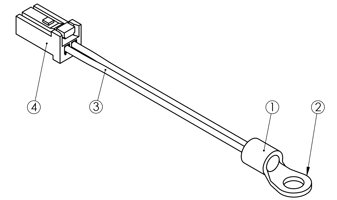 1. Electrical (NTC Characteristics)
R25 (Ω), R25 Tolerance, B25/85 (K), B25/85 Tolerance
2. Screw Size
Options include but not limited to: LUG inner diameter ranging from M2-M8 with differing outer diameter, tab thicknesses, and barrel size.



3. Cable
Options include but not limited to: Insulated (PVC, PTFE/ETFE, XLPE, etc.) / non-insulated, wire gauge (AWG22-32), stranded / solid core, lead length / strip length, cable voltage rating, and more.



4. Connector
Extensive range of already approved connector options from most common connector suppliers. Specific requests outside of approved range will require feasibility evaluation.



Custom Modification Request